Grace Farm Cotton WorkShop 2018
The schedule of the 2018 Japanese cotton workshop was decided!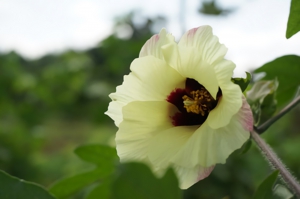 Hamamatsu used to have cotton fabric in Japan. The Japanese cotton revival project is active here.
Yarns and clothes spun from Japanese cotton have their own elasticity and thickness, suited to the humid climate of Japan, in summer they absorb moisture and turn into warm weather including winter in the winter. By seeding, watering, weeding, harvesting, thread weaving, dyeing, weaving with your own hands, the richness and existence of life, the experience of touching the movement of the world related to clothing, workshop deepening understanding and We now have.
Period
First Saturday April 28 (Saturday) to Sunday 29 (Sunday)
Cotton cultivation ... Prepare planting and planting and practice
Yarn spinning ... Thickness of Yarn (English style cotton count) and twist direction of thread
Thread spinning practice
2nd Saturday, June 2 - 3 (Sun)
Cotton cultivation ... fertilization and weeding study and practice
Spinning ... difference between spinning process and hand spinning process
Thread spinning practice
The 3 rd Saturday, August 11 - Sunday 12 th (Sunday)
Cotton cultivation ... Weeding in the high summer and water female studies and practical training
Yarn spinning ... History of thread spinning tools
Thread spinning practice
The4th October 13 (Sat) - 14 (Sun)
Cotton cultivation ... ripe cotton and immature cotton seat
Harvesting practice
Thread spinning practice
The 5th Saturday, December 8 (Sat) - Sunday, 9 (Sunday)
Cotton cultivation ... Picking up (gokyo) and tatami mats in field
Yarn spinning ... Kakeashu and untwisting practice
Thread spinning practice
Up to 20 applicants
Tuition fee ¥ 108,000 (tax included) 5 times attended
Spot participation is also possible ¥ 12,000 / 1 day
* However, I will prioritize those who participate in all days.


Instructor Introduction Tomohiko Terada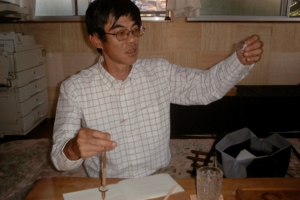 Shinshu University graduated from Textile Engineering Department of Textile Engineering Textile Engineering Bachelor
I am good at studying thread quality based on textile engineering.
While engaging in cotton cultivation of family business in Fukuda-cho, Iwata-shi, Shizuoka prefecture in 1982
Hone cultivation, spinning and dyeing techniques
1990 - engaged in cotton cultivation guidance, consultant
2016 Total Care Center for Persons with Disabilities Independence Support NPO
Take the cultivation guidance of the Japanese cotton field
Venue NPO Total Care Center Grace Farm
We will pick you up at the venue
Access 6km northeast from Tomei Expressway Hamamatsu West Inter
15 minutes parking available
Inquiry application
Total Care Center, NPO Corporation: Yumetaka Nakamura
Shizuoka prefecture Hamamatsu city Kita-ku Mihabara-machi 2041-3
Telephone 053-414-5202
FAX 053-523-7915
mail

tcc @ npotcc.com