Intoroduction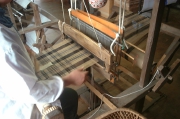 Welcome to our on line studio.
Thank you to interested in our activities concerning kudzu fabric.
We will show you a lot of information about kudzu-fu.
Please enjoy our on line studio.
Of corse we will be very glad if you visit us actually.
Our studio is located in Shimada city Shizuoka prefecture Japan actually.
It takes one and half hour by train from Tokyo.
You can take some lessons concerning making kudzu-fu and also get our products.
Making and knowing kudzu-fu is happy.
Let's have a delightful time with us.
Kudzu-Fu Workshop 2020
This workshop will be conducted in English for articipants from foreigen countries
2020 July. 29(wed)~Aug2(sun)

Facebook
,facebook,,{"facebookPageUrl":"https://www.facebook.com/Ooigawa-kudzu-fu-weaving-studio-629957610530990/?fref=ts","boxHeight":"556","boxWidth":"500","dispFace":true,"dispUpdate":true,"dispHeader":true,"wUnit":"px","hUnit":"px"}