History of Kudzu Cloth
 Kudzu Cloth had been used by people for long time from ancient.
The oldest kudzu cloth made in the Neolithic era was excavated in China.

Kinu no toden  Junro Nunome p41 Shogakukan Library*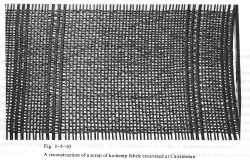 a reconstruction of a scrap of ko-hemp fabric
Photo:history of textile technology of ancient china P35
cheng weiji science press newyork LTD
In Zhou dynasty, Chinese people wore kudzu cloth considerably.
Chinese people stopped making kudzu cloth in the time of Tang.


history in Japan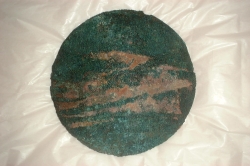 kudzu fabric attaced on the cupper mirror made in tumulus period In Japan, kudzu cloth made in Tumulus period (about 1500 years ago)was unearthed .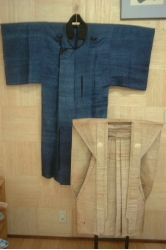 a kudzu-fu travel coat and a men's formal jacket ( owned by Ooigawa kudzu-fu Weaving Studio) In Edo period , Samurai wore kudzu cloth as travel coats or kamishimo(Japanese traditional formal jackets for samurai)
History of Oigawa kudzu-fu Weaving Studio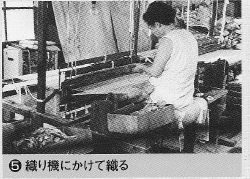 a woman weaving kudzu-fu 50 years ago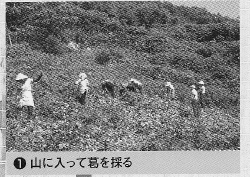 harvest kudzu vines in mountain 50years ago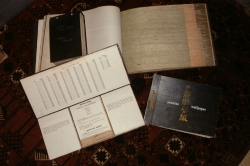 sample books of wallcoverings forUSA and Italy
History date of Oigawa Kudzu cloth
1950 begun to wave kudzu cloth
1952  establish company
1996 establish Oigawa Kudzu Cloth
1997    began to expedition
2000    Senshoku α,weaving dyeing magazine , introduce our activities on it's pages
      attend Japan creation exhibition
2001    attend Matsumoto craft fair exhibition
    exihibit at Kiryu orimno sankoukan
    「Gendai orihimeno koromoten2001」 kuzdu cloth displayed by Ryoko Murai got an honorable mention
   kudzu-fu dyed with natural material won the honor of the trend of this year at Japan creation exhibition
   Nihon mingei kan decided to use kudzu wall paper for it's refurbish
2002  exhibit at Matsumoto craft fair
       
2003   kudzu-fu Obi won a prize at Japan traditional crafts exhibition
      kudzu-fu ikat Noren won a prize at Kyoto orinasu kan exhibition
2004   kudzu-fu kijyaku won a prize at Japan traditional crafts exhibition
      promote bast fiber cloth exhibition
2005    kudzu-fu bengara stripes obi , indigo stripes obi received a encouragement prize at Japan folk crafts museum exhibition
      Toyota folk crafts museum bought these items
2006    Osaka Japan folk crafts museum used kudzu wall coverings for it's refurbish
      kudzu-fu obici receved a prize at Japan folk crafts museum exhibition
2007    promote Japan three major primitive clothes in Kochi city
      exhibite kufzu-fu at Shinjyuku OZONE interior centre for three months
      gave a lecture "learn ancient weaving and dyeing"at OZON seminor
      exhibite "bast fiber clothes" at Aoyama mitomo
2008    attend "ancient weaving exhibition
2017 attend kudzu-fu kimono"kusanagi" to Japan traditional crafts exhibition

■other Kudzu cloth studios in Japan
There are only 3 studios of kudzu cloth in Japan now
Kawade shoten
Okamoto kappu
Ozaki kuzufu